Goodbudget
An important part of saving is budgeting. Budgeting means setting savings goals and knowing exactly where and what you spend your money on. There are many ways to budget and track spending including: keeping cash in envelopes and locking up your cards, writing it down on paper, using an Excel spreadsheet, or tracking spending through a computer- based or mobile app.
I noticed that Mint always gets lots of attention and recommendations as a personal finance application, b
ut I never wanted to use it because I don't like the idea of one website having access to all of my financial information.
So today I would like to feature a great app that I use called Goodbudget, (formerly known as EEBA Easy Envelope Budget App).

This app uses the idea of putting cash in envelopes without actually going to the ATM and hiding your debit card. What I like about it most is that creating an account and connecting it to your bank account is optional - you do not have to enter any banking information as it is not tied to your accounts in any way. This means that it is up to you to honestly record your transactions, but to me this is preferred over the risk of account information being hacked.
Here are some basic instructions about how it works:
1: Enter your monthly income
3: Allocate an amount to each category
The app will show you how much is remaining in each category. If you are potentially getting close to overspending, it tells you the number of days you need to stop spending based on an average daily amount.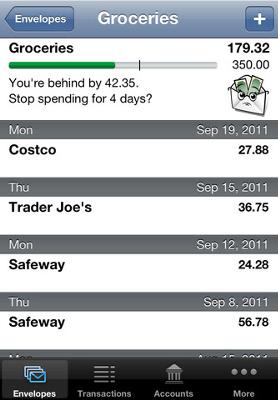 And of course there's the cartoon envelope friend who frowns and smiles accordingly.
Have you tried Goodbudget? What did you think? How do you track your spending?