Here are two red, white & blue outfits that can be worn to the office or to July 4th Festivities:
Hopefully you have the holiday off, but if you are stuck in the office or feeling patriotic on the 3rd, this outfit can be worn to work.
Business casual ruffle shirt -Target
Red lace cami - Charlotte Russe
Sweetheart jeans - Old Navy
Red shoes- from a college discount sale
White necklace - Body Central
For a night of fun, food and fireworks, this outfit will be fashionable and comfortable in the July heat.
Another reason to celebrate is that it's Friday and this is also my first co-host on the blog, I have teamed up with Ashley from The Grits Blog who hosts a Linkup every Friday. Please click the links below to check out her blog and to link up your own page to the Little Friday Link up : )
Rules are there are no rules!
Please link-up to whatever you like!
All that we ask is, if you wish, please follow us via the links above and that you link back to this blog - so that other's can join in and mingle!
Happy Little Friday Everyone!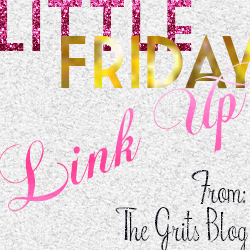 ---
You are next...
Click here to enter
This list will close in 6 days, 9 hrs, 26 min (7/9/2014 11:59 PM North America - Eastern Standard Time)